Jack Vance - The Wannek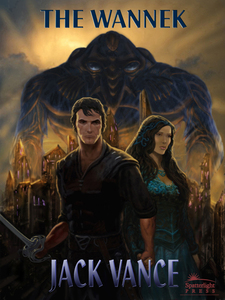 Title
The Wannek

cover art by David Russell

Code
vde37
ISBN
978-1-61947-036-1
Published
2012
Price
$ 5.99

Summary
After crashing on Tschai, Adam Reith's scout ship is impossibly damaged. Reith must find another vessel to return to Earth. Having rescued the beautiful Ylin-Ylan, Reith is assured of assistance from her father if he delivers her back to Cath; but as events unfold, he is forced to make a dangerous choice. Inevitably he must risk everything against the enigmatic Wannek - and their devious human servants, the Wannekmen.
Tschai
The Wannek is part 2 of 4 of Tschai
Tschai is a planet orbiting the star Carina 4269, 212 light-years from Earth. It is populated by three alien, mutually hostile species; the displaced, native Pnume; and various human races, some of whom live as slaves or clients of the aliens. Each of the four novels relates Reith's adventures with one of the species, and is named after that species.