Jack Vance - Suldrun's Garden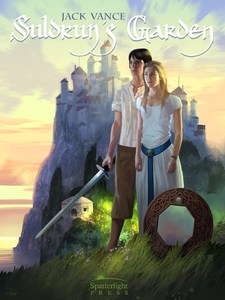 Title
Suldrun's Garden

cover art by Luc Desmarchelier

Code
vde56
ISBN
978-1-61947-055-2
Published
2012
Price
$ 6.99

Summary
Take a doomed princess, a dispossessed prince and a wicked king, a vengeful magician and a melancholy witch; now add faeries, ogres, changelings, scheming barons, wanderers who are not what they seem, robbers, orphans, and a race of hardbitten warriors at war with all humanity. Stir in politics, intrigue, plots and assassinations, battles and sieges, then set it all to simmer in a mythical archipelago across the western sea before the time of Arthur.
Jack Vance draws together the threads of fairy tale and pagan myth to weave an epic tapestry of adventure and intrigue in the Elder Isles. The result is a masterpiece.
-Matthew Hughes
Lyonesse
Suldrun's Garden is part 1 of 3 of Lyonesse
The Lyonesse Trilogy is a group of three fantasy novels by Jack Vance, set in the European Dark Ages, in the mythical Elder Isles west of France and southwest of Britain, a generation or two before the birth of King Arthur. An Atlantis theme haunts the story, as do numerous references to Arthurian mythology.
Some place names and concepts, such as references to sandestins as magical creatures that do the actual work of carrying out a magician's spells, are shared between Lyonesse and Vance's Dying Earth series, suggesting that the two worlds may be linked.