Joe St. Johanser - Space Opera
Artist
Joe St. Johanser
Album title
Space Opera

cover art by Ronald Marc

Code
vcd002
Published
2012
Price
$ 11.99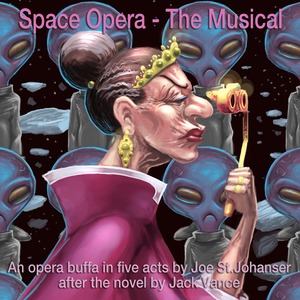 About 'Space Opera'
An opera buffa by Joe St.Johanser, based on the classic Jack Vance sci-fi novel Space Opera.
Performed by the Orchestra Ensemble Lumière conducted by Neil Ferris.
Vocalists: Jill House, Nick Gee, Helen Semple, Tim Baldwin, et al.
©2012 Robosoft Music Ltd.
Content: Space Opera, 2CD, format M4A (320kbps, 44KHz, stereo), CD booklet, Libretto, Full musical score
Total download size: 411Mb
See this page for more information and two sample audio tracks.