Patrick Dusoulier - Trivial Vancean Pursuits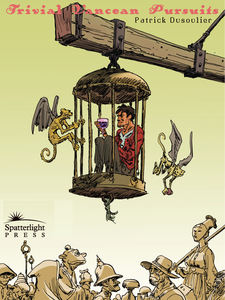 Title
Trivial Vancean Pursuits

cover art by Li-An

Code
vom001
ISBN
Published
2015
Price
$ 0.00

Summary
The devil may be in the details – but so too is the delight! And these three essays deliver details and delights in abundance.
Patrick (Axolotl) Dusoulier, Vancephile extraordinaire and noted translator of Jack Vance's works, mined the grandmaster's oeuvre for three varieties of the minutiae beloved by the true aficionado of Vanceana. Originally published in Cosmopolis, here they are brought together in the ebook TRIVIAL VANCEAN PURSUIT.
* * *
Ever been struck by an odd name in a Vance novel and thought, "Where have I seen that before?" Now you can discover the exact locations, in Dusoulier's comprehensive essay on the master's recycling of curious nomenclature, from Araminta to Zangwill.
Or perhaps you have noticed the frequent mentions of powerful spirituous punches in Vance's myriad taverns and roadhouses and wondered how many varieties did he ultimately concoct?
Here they are, all brought together, from Tanglefoot to Saskadoodle, and even including some recipes – providing you can lay your hands on a jug of tartlip juice or bangleberry rum.
Or have you lain awake in the wee hours wondering how many times Jack confined his heroes and villains in cages? And what were those various brigs and hoosegows fashioned from? Now you will know, because the indefatigable Dusoulier has itemized each and every occurrence.
* * *
Here are three explorations of nits and nuances to delight the longest-serving Vancephiles and the newest of tyros alike – a peek inside the workings of a subtle and prodigious creativity and a must-have for anyone whose bookshelves proudly boast a row of Jack Vance titles.