WELCOME
This site was built by fans and family of Jack Vance.
Please check back periodically for interesting new photos and features.
Submit suggestions or comments here.
Jack Vance

- In Memory of Jack Vance -
1916-2013

News

May 25th, 2016 - New Spanish Tschai Edition

Tyrannosaurus Books are releasing a new Spanish translation of Tschai, based upon the restored text of the Vance Integral Edition. The first volume Los Chasch is now available from Amazon, Cyberdark, Tyrannosaurus, and from a variety of bookstores like Fnac, El Corte Inglés, Casa del Libro, and Gigamesh.

March 9th, 2016 - The Legendary Lexicon, 2nd Edition!

Spatterlight (the international branch of Spatterlight Press) is excited to present an extended, revised, and re-indexed 2nd edition of the almost legendary 1992 Jack Vance Lexicon by Dan Temianka. This new compendium of coined words, titled The Jack Vance Lexicon: from Abiloid to Zygage is available from Amazon in trade paperback and ebook formats.
---
Celebrating a century of Vance with a new integral edition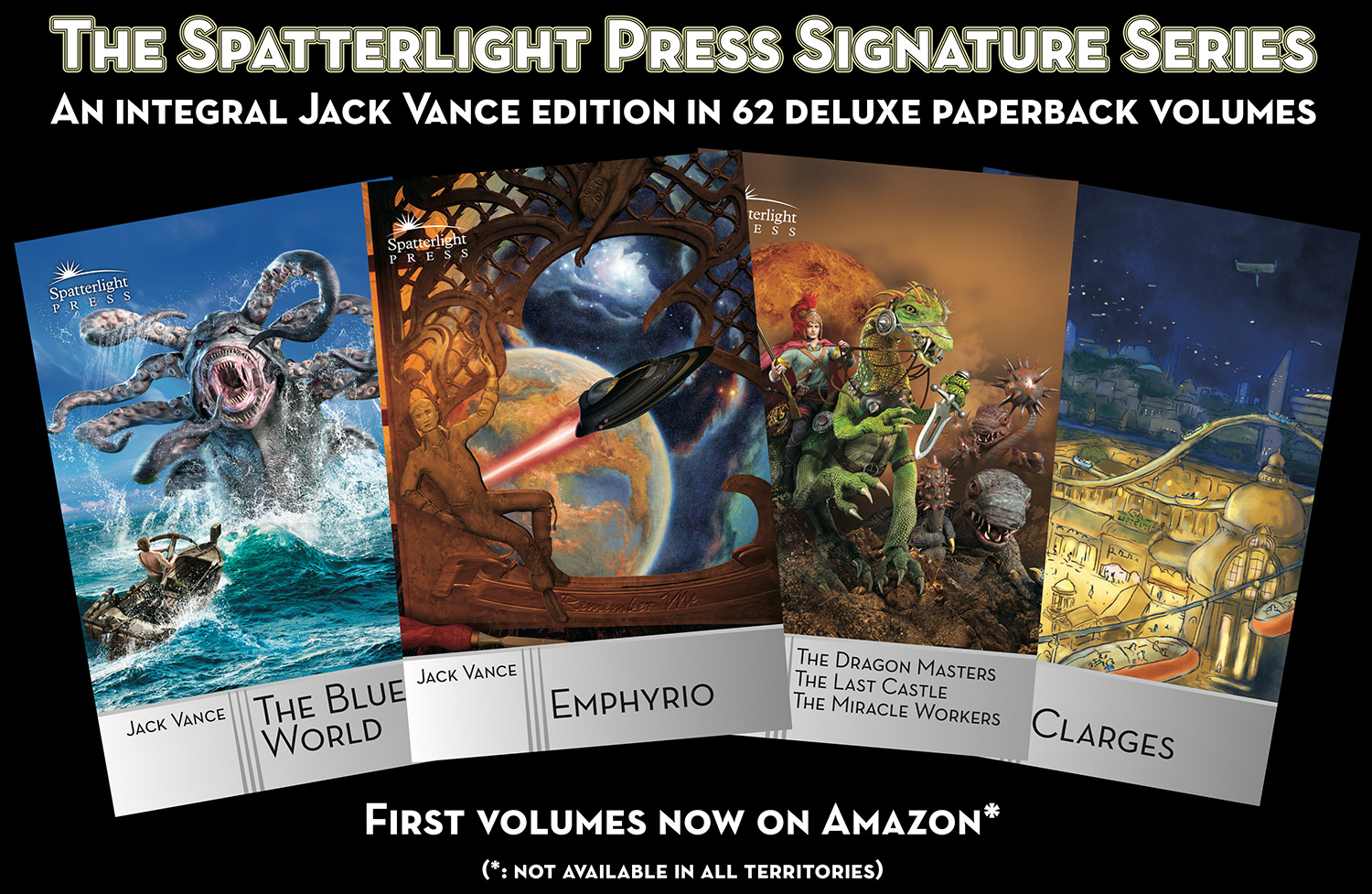 We are excited to announce the Spatterlight Press Signature Series. Released in the centenary of Jack Vance's birth, this handsome new collection is based upon the prestigious Vance Integral Edition. Select volumes enjoy up-to-date maps, and many are graced with freshly-written forewords contributed by a distinguished group of authors. Each book bears a facsimile of the author's signature and a previously-unpublished photograph, chosen from family archives for the period the book was written. These unique features will be appreciated by all, from seasoned Vance collector to new reader sampling the spectrum of this author's influential work for the first time.
Already published:
Vol. 10 - Clarges
Vol. 12 - The Dragon Masters and Other Stories
Vol. 30 - The Blue World
Vol. 33 - Emphyrio
More titles to follow on a monthly basis!
---
E-books

We're proud to offer our very own highest quality Jack Vance e-books in our webshop. All of Jack Vance's novels, short stories and omnibuses are available in DRM-free e-book format.

VIE Sets

Reader's and Deluxe versions of the peerless Vance Integral Edition are available for $4000 and $6000, delivered. Supply is limited, so contact us soon to secure your own set of these remarkable books.

Translations

A large quantity of Vance is available for non-English speakers at Afton House Books. If you're an Esperantist, check this out!
---
E-book Cover Art

Spatterlight Press is privileged to include exciting original art by Joel Anderson, Joe Bergeron, Dylan Carroll, Luigi Castellani, Luc Desmarchelier, Howard Kistler, Menno van der Leden, Li-An, Konstantin Korobov, Marcel Laverdet, Ronald Marc, Jared Pullen, Paul Rhoads, David Russell, Jasper Schreurs, C. Michael Taylor, Tais Teng, Todd Tennant, and Koen Vyverman. If you'd like to see your work on our e-books as well, please contact us.

The Paul Allen Library Fund

Mr. Allen's gracious endowment allows us to provide VIE sets free of charge to select university libraries, for the lasting preservation and appreciation of Jack Vance's work. More than thirty institutions have benefitted from this program so far, and yours could be next. Ask your librarian to drop us a line.

Thanks for Visiting!