WELCOME
Grandmaster Jack Vance (1916-2013)
Visit FOREVERNESS.

Rights Queries

Click here if you'd like to publish Vance in the US. International enquiries please click here.

Feedback

Suggestions, comments or questions are welcome.

Welcome to the official Jack Vance website

We hope you enjoy all that this site has to offer. Check out our e-book webshop, photo albums, and cover art!

Web Developers: if you'd like to help develop the features or content of this site, please get in touch.

Graphic Artists: if you'd like to see your work on the cover of a Jack Vance book, let us know.

Spatterlight Press, a note

Spatterlight Press LLC was formed by family and friends to preserve and promote the work of Jack Vance. The Spatterlight Press Signature Series trade paperback edition consists of the complete list of Vance titles, excluding the three Vance mysteries written for Ellery Queen.

Although the series is published through Amazon, not all titles are available in all territories, but the shape and extent of restrictions change over time, so check back later if what you seek is unavailable. Spatterlight Press e-books are widely available.

All Spatterlight Press publications are derived from the Vance Integral Edition.
---
News
A new Paladins of Vance release:

Paperback available on Amazon.

July 29th, 2021 - Barbarians of the Beyond

After Tais Teng explored new Alastor worlds in Phaedra: Alastor 824, and Michael Shea followed Cugel the Clever into the demon realms of the Dying Earth with A Quest for Simbilis, we are pleased to announce that renowned genre author Matthew Hughes has penned a dashing adventure among the worlds of the Gaean Reach, which has been released as the third instalment on our Paladins of Vance label.

Barbarians of the Beyond is set in Jack Vance's Demon Princes universe, at around the time of Kirth Gersen's hunt for Attel Malagate and Kokor Hekkus. The paperback edition is now available on all Amazon stores, such as here. The e-book edition is being prepared for release this fall. Like to try a sample? Click here for a free first chapter! Cover art by Tiziano Cremonini.
---
Celebrating a century of Vance with a new integral edition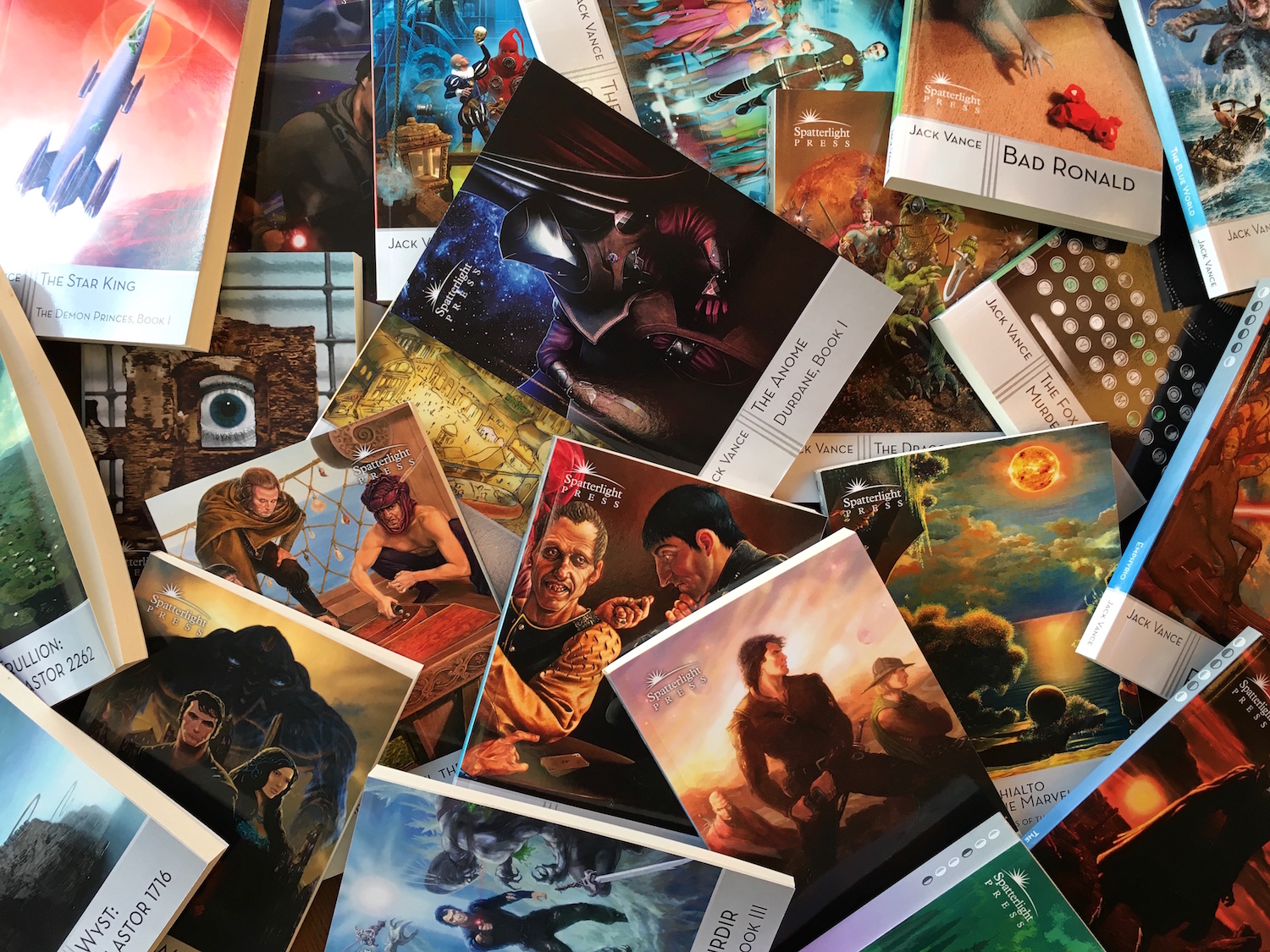 We are excited to present the Spatterlight Press Signature Series. First released in the centenary of Jack Vance's birth, this handsome collection is based upon the prestigious Vance Integral Edition. Select volumes enjoy up-to-date maps, and many are graced with freshly-written forewords contributed by a distinguished group of authors. Each book bears a facsimile of the author's signature and a previously-unpublished photograph, chosen from family archives for the period the book was written:
Vol. 01 - The World-Thinker and Other Stories
Vol. 02 - Magnus Ridolph
Vol. 03 - The Rapparee
Vol. 04 - Big Planet
Vol. 05 - The Magnificent Showboats of the Lower Vissel River, Lune XXIII South, Big Planet
Vol. 06 - Sail 25 and Other Stories
Vol. 07 - Vandals of the Void
Vol. 08 - Son of the Tree & The Houses of Iszm
Vol. 09 - Gold and Iron
Vol. 10 - Clarges
Vol. 11 - The Languages of Pao
Vol. 12 - The Dragon Masters and Other Stories
Vol. 13 - Chateau d'If and Other Stories
Vol. 14 - The Flesh Mask
Vol. 15 - Strange People, Queer Notions
Vol. 16 - Bird Isle
Vol. 17 - The House on Lily Street
Vol. 18 - The View from Chickweed's Window
Vol. 19 - Bad Ronald
Vol. 20 - The Dark Ocean
Vol. 21 - The Fox Valley Murders (Joe Bain, book 1)
Vol. 22 - The Pleasant Grove Murders (Joe Bain, book 2)
Vol. 23 - The Man in the Cage
Vol. 24 - The Deadly Isles
Vol. 25 - Golden Girl and Other Stories
Vol. 26 - Mazirian the Magician
Vol. 27 - Cugel the Clever
Vol. 28 - Cugel: the Skybreak Spatterlight
Vol. 29 - Rhialto the Marvellous
Vol. 30 - The Blue World
Vol. 31 - The Moon Moth and Other Stories
Vol. 32 - Space Opera
Vol. 33 - Emphyrio
Vol. 34 - The Chasch (Tschai, book 1)
Vol. 35 - The Wannek (Tschai, book 2)
Vol. 36 - The Dirdir (Tschai, book 3)
Vol. 37 - The Pnume (Tschai, book 4)
Vol. 38 - The Star King (The Demon Princes, book 1)
Vol. 39 - The Killing Machine (The Demon Princes, book 2)
Vol. 40 - The Palace of Love (The Demon Princes, book 3)
Vol. 41 - The Face (The Demon Princes, book 4)
Vol. 42 - The Book of Dreams (The Demon Princes, book 5)
Vol. 43 - The Anome (Durdane, book 1)
Vol. 44 - The Brave Free Men (Durdane, book 2)
Vol. 45 - The Asutra (Durdane, book 3)
Vol. 46 - The Domains of Koryphon
Vol. 47 - Trullion (Alastor, book 1)
Vol. 48 - Wyst (Alastor, book 2)
Vol. 49 - Marune (Alastor, book 3)
Vol. 50 - Miro Hetzel, Effectuator
Vol. 51 - Maske: Thaery
Vol. 52 - Suldrun's Garden (Lyonesse, book 1)
Vol. 53 - The Green Pearl (Lyonesse, book 2)
Vol. 54 - Madouc (Lyonesse, book 3)
Vol. 55 - Araminta Station (The Cadwal Chronicles, book 1)
Vol. 56 - Ecce and Old Earth (The Cadwal Chronicles, book 2)
Vol. 57 - Throy (The Cadwal Chronicles, book 3)
Vol. 58 - Night Lamp
Vol. 59 - Ports of Call (Ports of Call, book 1)
Vol. 60 - Lurulu (Ports of Call, book 2)
Vol. 61 - Wild Thyme and Violets and Other Unpublished Works
Vol. 62 - This Is Me, Jack Vance!
Click here for full details about the Signature Series and where to purchase.
---
E-books

We're proud to offer our very own highest quality Jack Vance e-books in our webshop. All of Jack Vance's novels, short stories and omnibuses are available in DRM-free e-book format.

VIE Books

The last remaining sets of the Vance Integral Edition have found a good home; there are no more — bringing to a close yet another phase of the remarkable VIE project!

Translations

A large quantity of Vance is available for non-English speakers at Afton House Books. If you're an Esperantist, check this out!
---
Cover Art

Spatterlight Press is privileged to include exciting original art by Joel Anderson, Joe Bergeron, Dylan Carroll, Luigi Castellani, Luc Desmarchelier, Howard Kistler, Menno van der Leden, Li-An, Konstantin Korobov, Marcel Laverdet, Ronald Marc, Jared Pullen, Paul Rhoads, David Russell, Jasper Schreurs, C. Michael Taylor, Tais Teng, Todd Tennant, and Koen Vyverman. If you'd like to see your work on our e-books as well, please contact us.

The Paul Allen Library Fund

Mr. Allen's gracious endowment allows us to provide VIE sets free of charge to select university libraries, for the lasting preservation and appreciation of Jack Vance's work. More than thirty institutions have benefitted from this program so far, and yours could be next. Ask your librarian to drop us a line.

Thanks for Visiting!