News Archive
July 9th, 2021 - The final volumes!
The two remaining volumes in our Signature Series are now available: Ports of Call (Vol. 59) and Lurulu (Vol. 60). Titles may be found on all but the UK Amazon sites. Please refer to the Signature Series index for direct Amazon links to these volumes.
This concludes, for now, our effort to make the restored Vance Integral Edition texts permanently available in affordable paperback and e-book formats. Like Mazirian the Magician, we plan to continue to make selected titles available also in a case laminate edition.
June 11th, 2021 - Inching closer to completion
After a long wait we are releasing Vol. 26 in our integral edition: Mazirian the Magician, previously published as The Dying Earth, now under Vance's preferred title with a Foreword by the legendary Michael Moorcock. This release completes the Spatterlight Press edition of the 4 volumes which comprise the tales of the Dying Earth: Mazirian the Magician, Cugel the Clever, Cugel: the Skybreak Spatterlight, and Rhialto the Marvellous. Titles may be found on UK and European Amazon sites. Please refer to the Signature Series index for direct Amazon links to these volumes. To celebrate the occasion, Mazirian the Magician is also available in a case laminate hardcover edition.
May 22nd, 2019 - Four new volumes!
We are happy to announce the release on the UK and various European Amazon stores of four further volumes in the Spatterlight Press Signature Series: Cugel the Clever (vol. 27, foreword by Scott Lynch), Cugel: the Skybreak Spatterlight (vol. 28, foreword by Carlo Rotella), Rhialto the Marvellous (vol. 29, foreword by John Shirley) and Night Lamp (vol. 58, foreword by Jay Rawlins). The three Dying Earth volumes include plenty of wonderful interior illustrations by the great Stephen Fabian. The number of Signature Series volumes remaining to be published is thus reduced to three. Rest assured that we are diligently working towards offering the complete series, but are presently unable to predict when the next volume will be released.
April 12th, 2017 - Easter Eggs!
Our Signature Series may have appeared rather quiet these past months, but we have been preparing some serious Easter eggs: the three Cadwal Chronicles volumes and both Joe Bain mysteries are now available!
August 28th, 2016 - New Dutch Integral Edition

On the day of Jack Vance's 100th birthday, Spatterlight releases the first volumes in a new integral Dutch edition. For more information visit www.spatterlight.nl
May 25th, 2016 - New Spanish Tschai Edition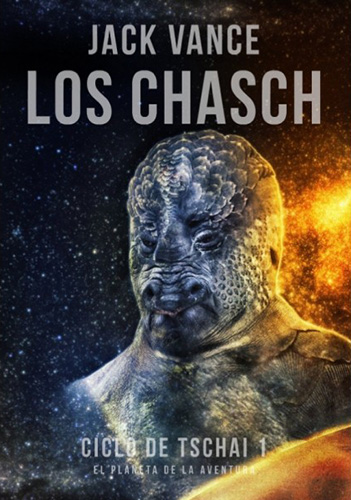 Tyrannosaurus Books are releasing a new Spanish translation of Tschai, based upon the restored text of the Vance Integral Edition. The first volume Los Chasch is now available from Amazon, Cyberdark, Tyrannosaurus, and from a variety of bookstores like Fnac, El Corte Inglés, Casa del Libro, and Gigamesh.
.
.
March 9th, 2016 - The Legendary Lexicon, 2nd Edition!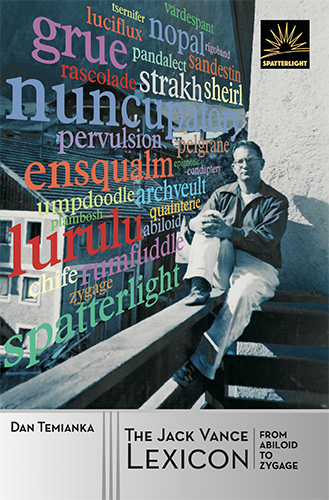 Spatterlight (the international branch of Spatterlight Press) is excited to present an extended, revised, and re-indexed 2nd edition of the almost legendary 1992 Jack Vance Lexicon by Dan Temianka. This new compendium of coined words, titled The Jack Vance Lexicon: from Abiloid to Zygage is available from Amazon in trade paperback and ebook formats.
.
September 15th, 2015 - Audio Book Enthusiasts Take Note!
Audiobooks Today reviews To Live Forever audiobook from Blackstone Audio.
Blackstone is also producing the four Planet of Adventure ("Tschai") novels!
September 6th, 2015 - Artwork Solicitation
Spatterlight Press is beginning a new phase of expansion, and once again seeks talented individuals interested in providing artwork to cover our ebooks and soon-to-come POD print editions. If you are interested in contributing, please contact us.
December 2nd, 2014 - Spatterlight YouTube channel
The Spatterlight YouTube channel just went live, dedicated to everything Jack Vance. We're adding more promo clips for the books in the coming weeks, and some other fun video material is in the making! Please go have a look, give thumbs up if you like it, leave comments, and subscribe for more!
Please visit The Spatterlight YouTube channel
September 1st, 2014 - Dying Earth RPG
Through the month of August, Spatterlight customers enjoyed a free e-book version of the award-winning Dying Earth RPG from Pelgrane Press. The book is a game, but also a repository of locales, spells, characters and even recipes from The Dying Earth series of books. For more information please visit Pelgrane Press.
June 19th, 2014 - New Lyonesse cover art
Suldrun's Garden and The Green Pearl got a makeover. Luc Desmarchelier, who created the Lyonesse omnibus cover earlier, now also finished two wonderful new covers for the first two books in the Lyonesse series. Check them out in our e-book shop.
May 2nd, 2014 - Gaean Reach tabletop roleplaying game
Long-time publishing partner Pelgrane Press will soon release its Gaean Reach tabletop roleplaying game which focuses on a Vancean trope: vengeance. Players devise their nemesis, the terrible things he has done to them and then they hunt him down through the cosmos. The book is supported by a Gazetteer so you can plan your next jaunt to the glass towers of Alphanor, the Groaning Ocean of Ladaque-Royale, or the Oxygen Marshes of Cuenos Notos. The books are available for pre-order.
July 23rd, 2013 - New Fan Contributions
We have new magnificent fan contributions by Howard Kistler: a set of illustrations inspired by Jack's three Ellery Queen novels which we unfortunately do not have permission to publish, although they have appeared in print as volume 14bis of the limited Vance Integral Edition.
July 1st, 2013 - Final omnibuses and signatures
With the release of the Lyonesse, Ports of Call and Alastor omnibuses the entire ebook collection of Jack Vance's work is complete. We've also added a recent signature of Jack to the title page of every ebook. And we reintroduced the old covers, so you can download the version with the cover you like best. All new and updated books can be found in the ebook shop and your ebook library.
April 13th, 2013 - Fan Contributions
Vance fans are creative people. In the past we've highlighted essays, books inspired by Jack's work, cover art and even an entire opera, but as of today we're also able to show you some of the immensely creative artwork fans have created in our Fan Contributions Gallery.
April 1st, 2013 - Two great new covers
Even though we also liked the old ones, Joe Bergeron and C. Michael Taylor created great new covers for Night Lamp and Maske: Thaery. You'll find them in the book shop. This month we'll also have a few other surprises for you, so keep an eye out for news on Twitter and Facebook in the coming weeks.
March 1st, 2013 - Good Music Always Defeats Bad Luck

Together with a really stunning new cover for Trullion: Alastor 2262 by Jasper Schreurs and a new Awards Photo Gallery, we're proud to be able to bring you never before published new work of Jack Vance: The Go for Broke Jazz Band.
February 1st, 2013 - Three omnibuses and four cover makeovers
This month we're introducing the Durdane, Big Planet and Joe Bain omnibuses. All Big Planet titles got a cover overhaul by David Russell and the two new covers by Howard Kistler complete the entire set of mysteries.
January 13th, 2013 - Space Opera - the Musical

Space Opera - the Musical is Joe St. Johanser's adaptation of Jack Vance's 1955 novel as a libretto for his fourth opera, endeavouring to retain Vance's wit, style and imagery and to render in music Vance's unique way of leaving his readers philosophically elevated, calm and filled with well-being and now available exclusively as a digital download on jackvance.com.
December 1st, 2012 - Two more omnibuses and 2 new covers
New omnibuses this month are The Cadwal Chronicles and The Dying Earth. And again two great cover makeovers by Howard Kistler for Strange People, Queer Notions and Jack's autobiography. Check them out in the e-book shop.
November 28th, 2012 - Meet Everett Coles
Jack Everett and David Coles write books together under the name Everett Coles. They wrote two great books as an homage to Jack Vance and specifically to "The Demon Princes" series, called "The Faces of Immortality" and "To Rule the Universe".
November 1st, 2012 - The first omnibuses and 3 new covers
This month we're introducing omnibuses: get the complete Tschai series, Demon Princes series and the Miro Hetzel novels in a single e-book with a nice discount. This release also includes nice cover makeovers for the Cadwal Chronicles series by Howard Kistler.
October 11th, 2012 - Mike Friedli essay
Long time Jack Vance fan, and regular writer of great book reviews on Amazon, Mike Friedli, has written an essay titled "The Vanciana Suffusing 'The Hunger Games'". An interesting read.
October 1st, 2012 - 2 new titles and 4 new covers
With the October release of "Space Opera" and "Rhialto the Marvellous" all of Jack Vance's work is now available in e-book format. This release also includes 4 beautiful mystery cover makeovers by Howard Kistler.
September 1st, 2012 - 8 new titles and lots of new covers
The September release is here. This time with 8 new titles, amongst which the famous Lyonesse trilogy, and lots of exciting new covers for previously released titles.
August 16th, 2012 - Promotional writer needed
For our upcoming releases we are looking for a Vance enthusiast who is willing and able to contribute to the book descriptions on jackvance.com and external sites. If this is you, please contact us as soon as possible.
July 22nd, 2012 - Get "The Chasch" for free

If you're anything like us, you probably wish more people were reading Jack Vance's work. Well, now is the time to introduce your friends to Jack Vance. For a limited time we're making the first novel of Jack Vance's famous "Tschai" series available for free.
June 15th, 2012 - 10 new titles
The June batch of titles is up. Among them you'll find the complete Magnus Ridolph, Miro Hetzel and Hugo and Nebula award winning novellas The Last Castle and The Dragon Masters.
March 15th, 2012 - New releases
We've just made 11 new titles available in the shop; two complete series and and five novels.